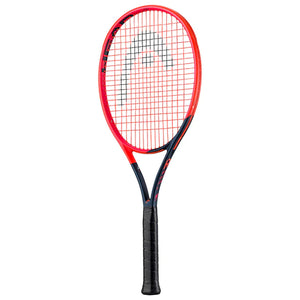 For sensational impact feel and enhanced playability, the RADICAL TEAM has been upgraded with innovative Auxetic technology. All-court team players can enjoy a modern blend of power, control and spin with this versatile racquet, which is lighter, and has a larger head and more power, than other models in the RADICAL series. The exclusive technologies include sound grommets which enhance your power through greater string movement while optimizing sound and vibrations. If you love to mix it up, you will adore the RADICAL TEAM, which has Graphene in the frame, a variable beam cross-section which balances power, control and spin, and a dynamic 16/19 string pattern. Known as 'The People's Racquet', the RADICAL series has a bold, new, asymmetrical design.
Frame weight: 280 g / 9.9 oz

String pattern: 16/19
Head size: 660 cm² / 102 in²
Grip size: 0-5
Balance: 320 mm / 1 in HL

Length: 685 mm / 27.0 in
Beam: 22/25/23 mm
CPI: 700
This racquet comes pre-strung in HEAD LYNX Tour 1.25mm monofilament string and has no racquet cover.