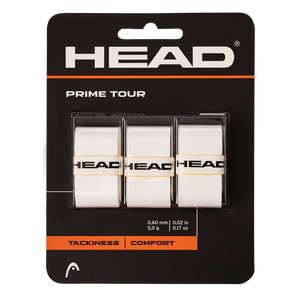 Excellent comfort and sweat absorption come together in the new innovative PRIME TOUR overwrap.
A secure grip is no longer out of reach thanks to the new PRIME overwrap. An innovative chemical reaction increases the open cells of the PU material of the wrap's surface, thus providing optimal sweat absorption, a dry feeling and great comfort no matter how hot your rallies get.
Prime TOUR provides the perfect blend of comfort and tackiness.  
Thickness: 0.0 mm / 0.02 in
Weight: 5.0 g / 0.17 oz
Colours: White, Black Yellow or Mint