Racquet Customisation
Racquet customisation: Playing with the right racquet lets you focus on your game and performance on the court. Prelli offers a wide range of customisation services that will help take your racquet/s to the next level.
We can offer this unique and skilled job.
There are 2 reasons to customise your racquet.
Companies are making racquets to suit everybody and not just you. Customisation is there to make the racquet suit you!
If you buy multiple racquets, racquets can be all different in specs (due to mass production in companies) Our job is to balance the racquets to have the same weight and balance. So all racquets feel the same!
LOU'S TIP: Customise one racquet and go off to play. When you're happy with that one racquet. We will customise all the racquets to be the same.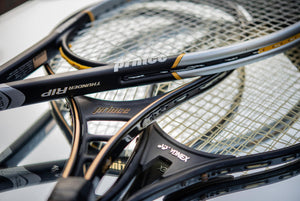 Racquet Customisation Service
• Weight and balance adjustments

• Racquet testing (stiffness, tension, swing weight, balance)

• Racquet matching (weight, balance, swing weight)

• Racquet lengthening

• Bumper guard/grommet set replacement

• Grip size alterations

• Re-gripping

• Restringing

Call or visit us today and talk to one of our expert staff to discuss your requirements.
Below is a list of racquet repairs that Prelli offers and their approximate price. In order to get an accurate pricing we need to assess the racquet in-store. You can come in and see us in-store, or mail the racquet to: 207-209 Victoria Parade, Collingwood, Vic 3066

Tip: In order to prevent any further damage to the racquet, when mailing it to us be sure to package it securely. Prelli will take no responsibility for any damage caused to racquets during transit or due to insufficient packaging.