Restringing
Having the right string and tension can make all the difference to your game. Our restringing service is the best in the business because we take into account your playing style, power balance required, desired level of control, injury concerns and the durability you're looking for. Our state of the art stringing equipment, coupled with our many years of professional tour experience and advice will help you achieve maximum performance from your racquet.
What type of player are you? How many times a week do you play?
Power, control, durability, playability, feel or spin. These are all the intricate details we like to ask before assigning you what we feel is the best string and tension for your tennis game!
We have strung for some of the best players in the world, providing tour quality racquet stringing, maintenance and customisation services for players of all levels. So we know how personal it is for choosing the right feel for your game. The best way to work out a string is start with the basics, find your strengths and weaknesses, and let the string add and compliment your game the way your technique may be able to. Working with its best capabilities and allowing the string to grow with your game style.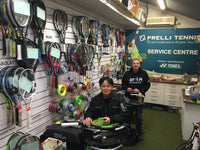 Experience At Its Best
Our stringers have strung for all the top tour players and at major tournaments like the London and Brazil Olympic Games, the Australian Open for the past 10 years, US Open, China Open, Japan Open, New Zealand Open, Asia games, Commonwealth Games and Davis Cup. We have also strung for badminton tournaments all around the world!
Flexible Restringing Services
While-U-Wait Restring
Fora small extra charge of $5, we can restring your racquet while you wait andenjoy a free coffee on us. If you need a while-u-wait restring, call our storeon (03) 9419 4000 to arrange a time.Note: Most racquets take around 20 -30 minutes to string.
During Shop Opening Hours
This is what most of our customers do. Drop your racquet (or racquets) off during the day and collect at a pre-arranged time, or we can call you when it's done so you can collect at your own convenience. On most occasions that will be the following day.
After Hours Drop Off
Why not take advantage of Prelli Tennis' famous after hours racquet slot. If you can't make it to our store in Collingwood during business hours, you can drop your racquet (or racquets) off any time of the day or night.

All you need to do is attach your name and number to the racquet handle, drop it in the after-hours slot, and we'll do the rest!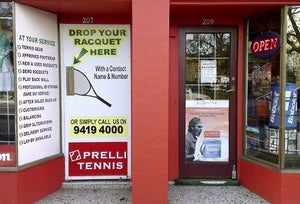 Next morning, if you've had a racquet strung by us before, we will have your restring details on file already and get straight to work. If not, we'll call you to discuss restring over the phone with you. There's no need to worry about rushing out to beat the traffic.

We can even arrange to deliver the racquet back to you. Call us on (03) 9419 4000 to discuss pricing.

---