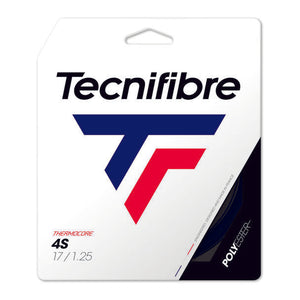 The 4S string is the one that will generate the most spin in this range with a square construction that allows even more spin.

 
Leading brand in strings, Tecnifibre offers a wide range of strings dedicated to all levels and requirements of players.

 
This string has been designed: For very good, demanding players looking for spin and spin For racquets over 300g For big string breakers Black color Main material: Co-polyester Recommended tension between 22 and 25 kg Maximum tension: 32 kgs Recommended for big string breakers (>10 hours of play).

 
String made in France.

 
Thermocore: Guarantees the greatest flexibility for polyester monofilaments to generate less fatigue.

 
Co-Polyester Compound:

 
Selection of polyester granules recognized for their specific flexibility.

 
High quality material thanks to a mix of different polyesters.

 
Section: Square for the most effects BEST SELLER FOR LIFTERS A real + with the square structure.

 
PLAYER FEEDBACK The most extreme answer given for lifters at Tecnifibre.

 
Flexible like the Black code.
Type: Polyester
Gauge: 1.30/16g
Size: 12m
STRING ONLY- NO PACKET